(Last Updated On: October 13, 2018)
Every year my kids look forward to decorating pumpkins. A maniacal gleam shows up in their eyes as they  fantasize about carving up their victims pumpkins. Meanwhile I'm imagining ER visits for severed fingers, a gooey sloppy pumpkin innards mess that won't be gone till the New Year and the smell of burnt pumpkin seeds permeating the house when someone decides to roast them and then forgets they were roasting them while showering off the sloppy mess (not that I have done that…).
Maybe I'm just a Halloween Scrooge. Before kids I loved to carve pumpkins. But the idea of pumpkin decorating with my kids without the carving part is way more appealing to me now. Does the thought of carving pumpkins with your kids give you the heebie jeebies too? Here's 11 great ideas that don't involve a butcher's knife!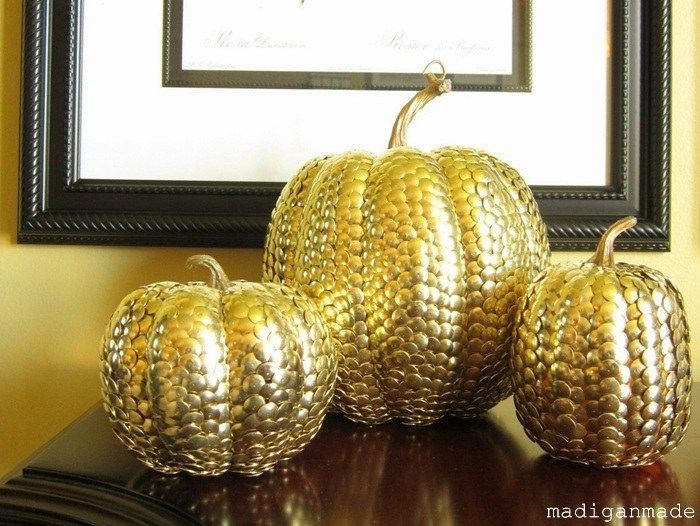 I am in love with these time consuming tack covered pumpkins from MadiganMade . No carving but be careful! Does everyone have their tetanus shots? There's still some potential for injury here.
Homestories A to Z  shared this polka dot pumpkin. It looks pretty easy to do with spray paint and some dot (tag sale or other) stickers. I suggest doing this one outdoors, in a box!
Blinged out pumpkins are just gorgeous. Paint them black or white first (or use white pumpkins) for max effect.  Directions for this bedazzled pumpkin here.
Beribboned pumpkins are easy to achieve with a minimum of effort. Even the least crafty among us can't hurt themselves with double sided tape! There's some hot glue involved with this tutorial from Blue Cricket Designs so maybe save that part for a grown up when the kiddos are in bed. Kids wielding hot glue guns or knives… it's a toss up which is scarier.
Pumpkins that are sexy? Sure. Just swathe in an old lace stocking and you've got a haute squash. Only cutting required is the stockings. Try black or white fishnets, lace and other patterned tights over contrasting colored pumpkins for max effect. You can use a twist tie, double sided tape and some ribbon to as a "garter" to keep your stockings from slipping.
Mummified Pumpkins are perfect kids craft projects for nervous moms like me. No knives and a lot of bandages. Surrender your glue gun and nobody gets hurt…
These Spiderweb Pumpkins are painted white and decorated with a sharpie. That's as sharp as it gets! Check the post for stencil ideas as well.
These pumpkins pop with three dimensional details added before a coat of paint.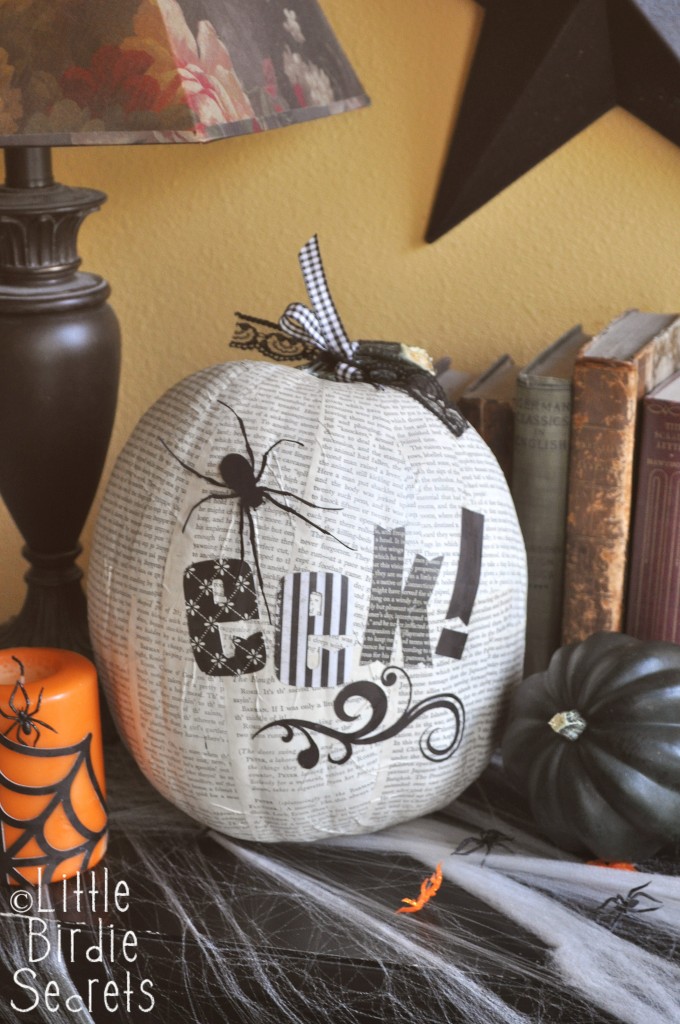 Make and Takes has an excellent tutorial showing how to make decoupage pumpkins. Personalize by stamping on paper prior to adhering.
Glitter Pumpkins (and this one by the Swell Designer in particular) are sparkly delicious. Click through for directions
Mr Pumpkin head anyone? Here's the ultimate easy, carving injury free pumpkin for designers that are a little more couch potato-ish when it comes to crafting.